Mattia Destro thriving under Bologna's new boss Roberto Donadoni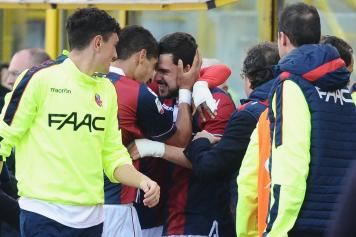 02 November at 22:14
Roberto Donadoni is getting praise and credit for his
winning debut in charge of the Serie A relegation candidates Bologna
after Delio Rossi's sacking.
The former Parma boss snatched a 3-0 victory at the expenses of Atalanta, boosting the
Felsinei
's survival hopes in this Serie A campaign. The 52 year old has changed life at Bologna so much so the club's main summer signing
Mattia Destro
has finally plundered his first goal at the
Stadio Dall'Ara
.
No dispute that the former Roma striker was
not in sync with the previous manager
as Destro was not only failing to score goals, but he also appeared to be a player far too lazy and volatile.
The 24 year old reaped the rewards of his work under Donadoni ending his goal drought against Atalanta and playing his best game since he joined the club on a
€ 10 million deal last summer.
During yesterday's game Destro was
much more involved in the teams' actions rather than under Delio Rossi.
In the two previous home matches (excluded the one against Inter, when Destro came off the bench) Destro made 25 touches (against Palermo), 33 (against Udinese), while he made 46 touches in yesterday's game against Atalanta.
Another key factor in Destro's new life at Bologna is his position on the pitch. Under Rossi he was playing as a
classic centre forward
, while Donadoni doesn't want the product of the Inter academy to be a reference point for the opponents, even if that means
collecting the ball in deep position
and making space for the wingers to attack the central spaces up front.
It is not a case that during the last Sunday game
Destro made 29 passes
, while against Palermo and Udinese he managed to give the ball away only 15 times.
Playing far from the opponents' danger area does not prevent Destro from creating goal attempts. When Bologna faced Udinese and Palermo, Destro
failed to produce one single shot on target
, while against Atalanta he netted his first goal at the club, shooting twice on target.
MATTIA DESTRO VS. UDINESE
MATTIA DESTRO VS. PALERMO
MATTIA DESTRO VS. ATALANTA
Lorenzo Bettoni (@lorebetto)