Milan's not-so-secret dreams: Conte and Tevez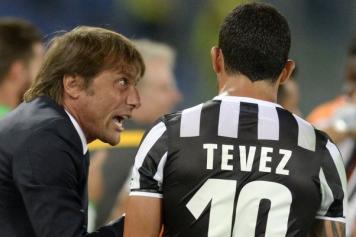 11 October at 12:52
When former AC Milan
Pato refused to join PSG in January 2012
, he prevented the San Siro club from cashing in approximately € 50 million as well as
purchasing Carlos Tevez.
The
Apache,
at the time, was still a Manchester City player.
At the
beginning of the 2014 summer transfer window
, AC Milan's CEO Adriano Galliani found and
agreement with Juventus' manager Antonio Conte,
who had just won his third straight
Scudetto
in charge of the Old Lady.
The Turin club, off course, didn't let his manager sign with the hated rivals and when Conte handed his resignation a few weeks later, AC Milan had already Filippo Inzaghi sitting on their bench.
It is quite safe to say that AC Milan's outcome in the last few seasons could have been slightly
better if Carlos Tevez would have played for them, with Antonio Conte in charge.
Now that both the manager's and the striker's position in their respective teams are uncertain, Adriano Galliani's dream is bringing both of them at San Siro, even if with some years' delay.
As we previously reported
, Carlos Tevez is not settling himself at Boca Juniors as the Argentinean club
failed to pay him the last three months
, while it is not a matter of secrecy that
Antonio Conte
would prefer to
finish his spell as Italy's coach after EURO 2016,
to sit on a club's bench again.
Milannews
reported this morning that the
Rossoneri
are
not in talks with neither of the two targets
and having them both at the club is
still a dream for now.
By the way, Carlos Tevez could be interested in finally joining AC Milan as the seven times Champions League winners are the only Italian side that he has been in talks with in the last few years (as well as Juventus).
Conte and Tevez made Juventus' fortune in the 2013-2014 campaign, the last one of the manager in charge of the Old Lady. They won a
Scudetto
and reached an Europe League semifinal. In case that Carlos Tevez would become available on the market again, also the
Bianconeri
could knock at his door.
Lorenzo Bettoni (@lorebetto)