Perin: 'Candreva, De Rossi, El Shaarawy Perin came to visit me, back in 5 months'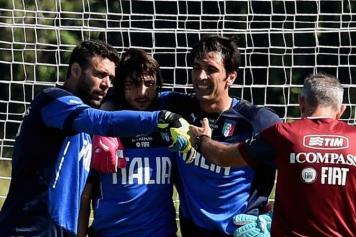 16 April at 18:30
Think life is bad for you, Genoa fans?
With Carpi coming back and taking the lead in one crazy minute
against the Grifone, the Red&Blue faithful need to remember what life is lick with a torn knee ligament, something which starting goalkeeper Mattia Perin has.
One of Italy's rising stars between the sticks, the Genoa goalkeeper was injured in the Grifone's recent win over Sassuolo.
Though few initially noticed him struggling after a clash with an onrushing attacker, it became apparent that the 23-year-old was in some discomfort, as he began taking goal-kicks with his left foot.
Clearly #Perin is in a bit of bother, the #Italy international is kicking with his left foot. 0-0 30' #SassuoloGenoa pic.twitter.com/P1JO4BoHv5

— Lega Serie A (@SerieAchannel) 9 April 2016
After the game, he was subjected to an MRI scan...and it emerged that the youngster had played a hefty slice of the game with an ACL TEAR. Imagine that!

And for those hot-take artists out there who argue that being a goalkeeper is a doddle...remember that even playing snooker with a fresh ACL injury is utter agony.

Anyway, Perin revealed to Sky Sport 24 that he is likely to come back "in five months".

"I've had colleagues who took four-and-a-half months to recover, but that's how long it takes when there are no complications".

"It was horrible news, especially because it came before the Euros, but there are people who have far biggger concerns in the world, thinking of them gives me the strength to do my best in physiotherapy and get back to 100%".

The much-vaunted youngster, who is seen as third in line for the Azzurri behind Gianluigi Buffon and Salvatore Sirigu [Why? ed.], also revealed that many Genoa and Italy team-mates have been to see him.

"Many have visited me: De Rossi, Iago Falqué, Perotti, El Shaarawy, Candreva, it's a great feeling, it means that I've left a mark on my team-mates.

"I've received a lot of messages from players, goalkeepers, colleagues, it's really boosted my morale".
@EdoDalmonte