Plane carrying Brazilian team Chapecoense crashes in Colombia leaving 76 dead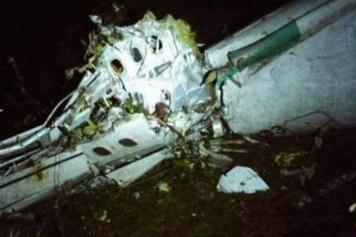 29 November at 11:05
A plane carrying 81 people, including 22 players from the Brazilian team Chapecoense has crashed in Cerro Gordo, Colombia.
Chapecoense were travelling from Bolivia to Medellin where the team was due to play the Copa America final against
Atletico Nacional
after beating Argentinean side San Lorenzo in the tournament's semi-final.
​Seventy-six people were killed and five survived
, Colombian authorities have said. Footballers Alan Ruschel, Danilo, Jackson Follman and the team's masseur are said to be among those who survived the crash.
​According to Colombia's civil aviation authority, the plane lost contact with ground controllers around midnight after that it had been given priority to land. Ninety emergency workers are said to be working at the crash site at the moment, but rescue efforts are hampered by bad weather hitting the area.
​Every Brazilian club have been sending their prayers to the Chapecoense football club, the mayor of Medellin has said that the crash is a tragedy of 'huge proportions'
Survivors are 5: footballers Danilo, Follmann, Alan Rushel, journalist Rafael Henzel and crew member Ximena Suárez. https://t.co/mcxKWfsGql

— Martin Mazur (@martinmazur) November 29, 2016
Desolación total en el vestuario de Chapecoense. Los jugadores que no hicieron el viaje, devastados. Qué jornada tan jodida. pic.twitter.com/acgTMar1oC

— Invictos (@InvictosSomos) November 29, 2016