PLAYER RATINGS Napoli 2-3 Besiktas: Motivated Manolo not enough as Jorginho flops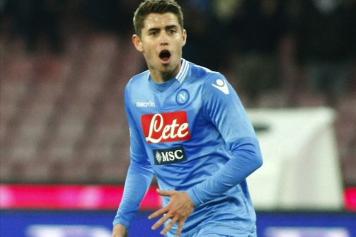 20 October at 00:03
Napoli-Besiktas 2-3
Reina 5,5: Hardly guilty on the opener, should have done more on Aboubacar's first. Sloppy.
Maggio 5: Did little going forward, lost Adriano for the opener. Anonymous.
Chiriches 5,5: A surprise inclusion, the Romanian didn't disappoint for 80 minutes, but lost Aboubakar for the winner. The striker, it has to be said, was clearly offside. Condemned by the bell.
Koulibaly 5,5: Still replaying that mistake against Salah, the Frenchman looked uncertain on the ball, penalizing Napoli's buildup. Can we fix it? No we can't.
Ghoulam 6: Great at bombing forward, absent when it came to marking Quaresma, whom he allowed to tee up the opener for Adriano. One Direction.
Zielinski 6: Threw his weight around in midfield and got on the ball a lot, flaunting his mobility in the bargain. Had two chances to score, but was denied by Fabri (Allan, 82, N/R). Promising.
Jorginho 4,5: Never looked calm, gave far too many balls away, especially the one which allowed Aboubakar to score Besiktas' second. Jumble Boogie.
Replaced by Diawara, 6 on 70 minutes: Earned the public's affection for some nice plays. You've come a long way, baby.
Hamsik 5: Initially left out of squad, then rushed into his old role in midfield, where he never got into the game. A shadow of his former self.
Callejon 6,5: Was absolutely everywhere, oiling Napoli's cogs and giving his all for the cause. Wonderful assist for Mertens' equaliser. WD-40.
Mertens 7: A surprise inclusion up front, he wasted three glorious chances before scoring the equaliser. Earned two penalties and was also unstoppable on the wing. The Midas touch, but he touched it too much.
Insigne 4,5: Should have been the turning point, instead Insigne wasted both his penalty and his chance, playing a poor game and being replaced on 65 minutes. Lawrence of Bessarabia more like.
Gabbiadini, 6.5: Scored a penalty and had an overhead kick chalked off. We saw all the rage Sarri doubtless provoked with his midweek comments. William Wallace.
Coach Maurizio Sarri 5:
Radically changed things for the first time this season. Was partially successful, but trusting an unfit and out-of-sorts Jorginho clearly cost him.
Pickett's Charge