Prandelli: Juve can beat Bayern, Napoli and Fiorentina NOT Scudetto material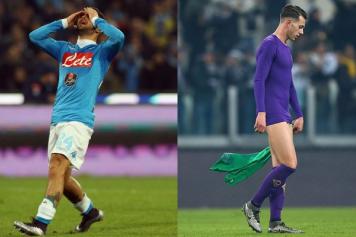 15 December at 15:54
Italy's Champions League teams have a chance. Despite drawing two European giants in Bayern Munich and Real Madrid, Juventus and Roma are far from finished, and their elimination is not a foregone conclusion. Juventus are rediscovering their old defensive form and have everything they need to compete against the Bundesliga champions: their main advantage is that Allegri has time to study his oppoinent and adopt the right countermeasures.
Juventus will need to speed things up, at least compared to what we've seen so far in Serie A, particularly to counteract Brayern's ability to swap passes in tight spaces.

That said, Guardiola's team also throws many bodies into the opposition half, leaving Juventus with the chance to exploit a number of one-on-one matchups on the counter. The Old Lady will have to be ruthless.

Max Allegri deserves a lot of credit for helping the Bianconeri climb back up the table: his choice to opt for players of stronger character and temperament (like Mario Mandzukic) over more talented ones in the mould of Alvaro Morata has paid off. Juventus' second goal against Fiorentina underlines this perfectly, the Croatian going down from a tackle only to get up and fire the ball into the goal. A fantastic moment.

Roma are definitely capable of competing with Real Madrid. The team we saw against Napoli showed some extremely encouraging signs from a defensive perspective. If the Giallorossi are able to keep this up, they'll be able to hurt Benitez's charges.

The Lupa's love for launching quick counters will benefit immensely from Gervinho and Mohamed Salah's returns: the African duo can be devastating. The finale at the San Paolo also saw Roma pull out the pluck and fighting spirit that had been absent around these parts.

I finish by speaking of the dip in form of Fiorentina and Napoli, two shock early-season Scudetto frontrunners. The two sides are now dropping precious points in the race to succeed Juventus, it could well be that Sousa and Sarri kept physical preparation to a minimum during the summer to be able to make a brilliant start and be able to take a breather over Christmnas.

This would explain why their players have looked tired of late. There's more, however: expectations have been ramped up by a series of stunning results, and by their opponents sitting up and taking notice of their style, which they've been forced to study more carefully.

Beauty is great, but they need to be able to play less well - whilst showing a more clinical side - if they are to make that final step towards stardom.
Cesare Prandelli, translated by Edo Dalmonte @edodalmonte