LIVE SERIE A MATCHDAY 33 Genoa fall 4-1 to Carpi: Goals and Highlights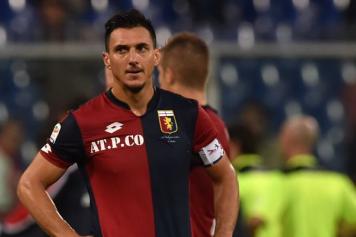 16 April at 19:53
Bologna-Torino and Carpi-Genoa open the Serie A matchday 33, before tonight's clash between Inter and Napoli at the San Siro.



INTER - NAPOLI

The Official Lineups are in!

Inter (4-3-3): Handanovic; D'Ambrosio, Miranda, Murillo, Nagatomo; Brozovic, Medel, Kondogbia; Jovetic, Icardi, Perisic. Coach: Mancini.
Napoli (4-3-3): Reina; Hysaj, Albiol, Koulibaly, Strinic; Allan, Jorginho, Hamsik; Callejon, Gabbiadini, Insigne. Coach: Sarri.
CARPI-GENOA 4-1
Two quick fire chances for #Carpi in the first 4 minutes. Crucial tie for #Carpi and they are ready. 0-0 #CarpiGenoa pic.twitter.com/mYUyyMTUjj

— Lega Serie A (@SerieAchannel) 16 aprile 2016
Oh #Carpi are here to play everyone! This will be one exciting game. 0-0 | 8' #CarpiGenoa pic.twitter.com/ML7lPdwJh8

— Lega Serie A (@SerieAchannel) 16 aprile 2016
#Pavoletti!!!!!!!! It's 1-0 for #Genoa. The home side stopped, thinking it was offside. #CarpiGenoa pic.twitter.com/4oREHnQHTP

— Lega Serie A (@SerieAchannel) 16 aprile 2016
Excellent decision from the linesman as #Dzemaili was clearly onside, you've got to play to the whistle. #CarpiGenoa pic.twitter.com/i7MGdCrBYP

— Lega Serie A (@SerieAchannel) 16 aprile 2016
#Izzo is off!!!! Terrible corner kick from #Cerci, #Carpi on the counter and #Izzo is off. #CarpiGenoa pic.twitter.com/I19P0YovE7

— Lega Serie A (@SerieAchannel) 16 aprile 2016
Oh what a fall from grace for this man. #Cerci skies a beautiful one-on-one for 10-man #Genoa. #CarpiGenoa pic.twitter.com/wrBMuGrL74

— Lega Serie A (@SerieAchannel) 16 aprile 2016
#DiGaudio!!!!!!! Oh what a goalllll!!!! #CarpiGenoa 1-1 | 45 pic.twitter.com/IF53azYmJ0

— Lega Serie A (@SerieAchannel) 16 aprile 2016
#Lollo!!!!!! #Carpi score 2 goals inside a minute. #Gasperini is livid with the 4 added minutes. 2-1 HT #CarpiGenoa pic.twitter.com/yvSW3zXshe

— Lega Serie A (@SerieAchannel) 16 aprile 2016
Goallllllll!!!!! #Pasciuti!!!! Takes them 3 minutes to make it 3-1!!!!!! #Genoa are likely down and out. #CarpiGenoa pic.twitter.com/Zah7r1V650

— Lega Serie A (@SerieAchannel) 16 aprile 2016
BOLOGNA-TORINO 0-1
Having 37 and 39 points respectevely, both Bologna and Torino have already sealed Serie A survival. However, Roberto Donadoni's side are without a win since the 14th of February (1-0 win against Udinese, with goal came courtesy of Mattia Destro), while Torino have won their previous teo games for 2-1 (against Inter and Atalanta)
Virtually the most exciting moment of the game. That gives you an idea how it's been eh! 0-0 HT #BolognaTorino pic.twitter.com/s5MExk68g0

— Lega Serie A (@SerieAchannel) 16 aprile 2016
Ohhh!! A few inches left & that might have gone in after striking the post. Closest they've come. 0-0 #BolognaTorino pic.twitter.com/yeMhMvZJ74

— Lega Serie A (@SerieAchannel) 16 aprile 2016
Goooallllll!!!!! Finally, the deadlock broken in the 92nd minute. 1-0 for Torino. #BolognaTorino pic.twitter.com/9Y0jl2aJVz

— Lega Serie A (@SerieAchannel) 16 aprile 2016