RECAP: Serie A Matchday 35 Goals and Results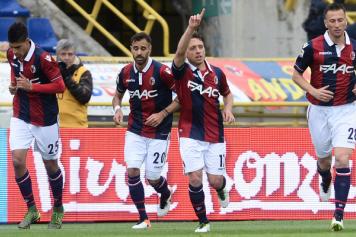 24 April at 20:18
Frosinone - Palermo

Frosinone are now very likely to bid farewell to Serie A, after losing a crucial home game against fellow strugglers Palermo (0-2).

Goals came courtesy of Alberto Gilardino and Aleksandar Trajkovski in the second half, allowing Palermo to pull ahead of Carpi and out of the relegation zone.

Both the Rosanero and the Biancorossi have now 32 points in the table, though Giuseppe Castori's side have one game in hand and a better goal difference which would allow them to survive in case both sides finish on even points.

Here are highlights (unofficial) of the game:

Bologna - Genoa
The Felsinei finally put an end to their eight-game unbeaten streak with a comfortable 2-0 win over a spent Genoa, who look to be going through the same post-surge dip as Bologna have. Now that both sides are comfortably near the top side of the table, the incentive to keep pressing may have dimmed slightly.

The home side took the lead with this finish from Emanuele Giaccherini (what a peach of a pass from Franco Brienza). The former Sunderland man has made it 8 goals for the season, though he hadn't scored since early February. His dip in form hasn't just coincided with Bologna's... but also with the beginning of the Donadoni-to-Italy rumours. Neat!


Emanuele Giaccherini Goal - Bologna 1 - 0 Genoa by photography-hd

Bologna would make it two in the second half after some borderline goofy defending from Cristian Ansaldi, allowing Sergio Floccari to deflect it in.

Gooooallllll!!! What a bizarre one in #Bologna!! Clearance cannons off of #Floccari and its 2-0 | 65' #BolognaGenoa pic.twitter.com/QjCDynZckK

— Lega Serie A (@SerieAchannel) 24 aprile 2016
Atalanta - Chievo
That Borriello chap can't stop scoring, can he?
Never thought we'd hear those words again! For the first time since 2010, the former Milan and Genoa man has netted in three consecutive games, though this one owes a fair amount to another man connected to Bologna... Alessandro Diamanti.
Marco Borriello Goal Atalanta vs Chievo Verona 1 0 2016 https://t.co/TxzsefArtB

— FHight (@FHightlights) 24 April 2016
Torino - Sassuolo
The Granata didn't exactly honour the newly-named "Stadio Olimpico Grande Torino", going down inside 4 minutes to a Gianluca Sansone strike.
Sansone GOAL (0:1) Torino vs Sassuolo by @goalhunter24_7 - https://t.co/jgmhhteEm3 via @DailymotionUSA

— OfficialGoals (@Official_Goals) 24 aprile 2016
Luckily for the Granata, that Bruno Peres was on hand to score another Roberto-Carlos-like goal, firmly putting himself in the shop window for this summer. An exciting start indeed!
https://t.co/l6IExzhcgK https://t.co/Q7k0EqETfl

— tifotorocaffe (@tifotorocaffe) 24 aprile 2016
Regrettably for Torino, Marcello Trotta would swing the game Sassuolo's way in the second half...
#Peluso!!!!! #Sassuolo get lead back. Europe hopes stay alive! #Milan will be concerned. 2-1 | 77' #SassuoloTorino pic.twitter.com/JHHYfr4c1e

— Lega Serie A (@SerieAchannel) 24 aprile 2016
Sampdoria - Lazio
Talk about a cracker!
Lazio took exactly three minutes to put themselves ahead here, a fabulous Candreva cross finding Filip Djordjevic's header. That was only his third of the season, his first since October.
Corsa di #Candreva e rete di #Djordjevic: #Lazio in vantaggio! #SampLazio 0-1 pic.twitter.com/shCZbfOiOO

— Alessia Novelli (@Alessia_Nov) 24 aprile 2016
After letting a huge chance go begging, Antonio Candreva would regret his profligacy when Fernando found his way into the box to net Sampdoria's equaliser. Four goals this year and a string of impressive performances. He's been a heck of an acquisition. Sampdoria would, however, find the winner thanks to Lorenzo De Silvestri... and goal-line technology! Lazio's claims of handball seem to be unfounded.
Gooooalll! Helter skelter in the box but #Sampdoria take the 2-1 lead thanks to goal line technology. 80' #SampLazio pic.twitter.com/kDt0C5svXS

— Lega Serie A (@SerieAchannel) 24 aprile 2016