Tavecchio: "I don't know why Juve asked for damages for Calciopoli. After Conte...."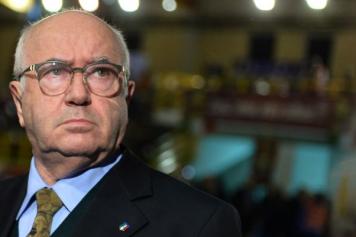 19 April at 17:52
At a ceremony celebrating amateur football in Italy today, FIGC chief Carlo Tavecchio has been speaking about the future of the federation.

He was first asked about the new video replay that will be trialled in Serie A next season, he replied; "There are no limits, we can use video assistance in Serie A, B and also in the Coppa Italia. In Serie A there will be a maximum of three matches chosen . The images will be studied by a current referee that will be chosen by the relevant authority".

Asked if the technology could be used immediately without going through a trial period Tavecchio stated that; "Impossible, we have to follow the guidelines set out by IFAB, but if things go well, I would hope we could have it ready for the start of the 2017-18 season".

On the departure of national team coach Antonio Conte, the president explained that; "The two years were his condition for signing, that he is now leaving to go to Chelsea does not put us in any difficulty and I believe the team can do well at Euro 2016". Asked about a potential successor, he replied; "He must have the characteristics of Conte, but not the salary. We can only afford half of what we paid the current coach (around €10 million gross per season)". He continued; "If I look at the sort of person we want, I would say it's more Guardiola than Mourinho but I will let you all know before we go to France".

Asked to pick out who he thought could be the Azzurri's secret weapon in the summer he stated; "Zaza could be the surprise of the tournament". On the topic of stadium redevelopment he explained that; "We need to have stadiums without barriers and if someone goes on to the pitch, we must send them to prison. Violence is a huge problem, even at amateur level because Italy lacks a sports culture. If we applied the rules to the letter of the law then Serie A would only consist of five teams. My idea is to have 18 teams in A, 20 in B and two divisions of 20 in C".

Finally, ten years on from Calciopoli, Tavecchio looked back with some regret declaring; "It was a blow and I do not understand why Juve insist with their claims to the federation for compensation for damages."


Steve Mitchell @barafundler