Thohir warns: 'Without FFP Serie A will die'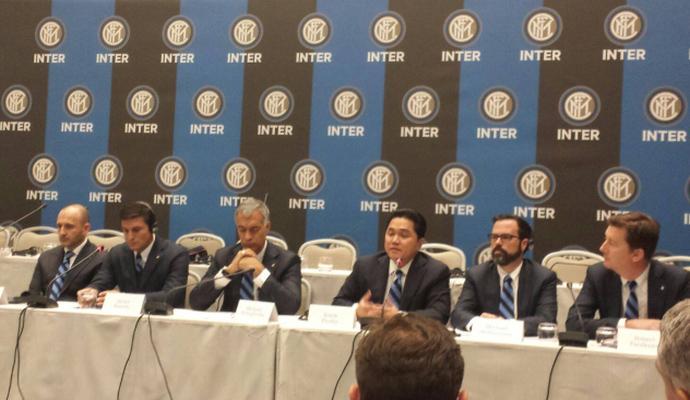 2015-19-10 - 19:44
As we previously reported
, Inter shareholders meeting was held this morning in Milan's hotel Gallia as the club revealed to be
€ 74 million down in 2014-2015.
Following the meeting,
Inter's president Erick Thohir
held a press conference along with the club's board of directors.
During the press conference, the Indonesian businessman has replayed to a lot of questions regarding the
club's future
as well as his
relationship with Massimo Moratti.
The Nerazzurri legendary president is reported to be about to
sell his shares
, making his ultimate Inter exit.
"We are in good terms with Massimo Moratti and
we had a good relationship thus far.
We are both working in the behalf of Inter. As far as our sponsor is concerned,
we are talking with Pirelli
as they are the historical partner of the club. We would love to carry on with them,
but we are also talking to other companies."
"There are ongoing negotiations and we hope to close a deal soon.
Rumors regarding
Etihad
as our next sponsor are just conjectures
"
After two years in charge of the San Siro club, Thohir expressed his own point of view about
Serie A's future prospects.
"I think it is very important for all the members of the Italian FA to
work in the same direction
in order to compete worldwide. Most of the
clubs can't cope with all the expenses. Revenues are not enough
even for clubs like Roma and Napoli, which will have to sell their players in order to survive."
"We can't afford another case like Parma. We need to
introduce a sort of Italian FFP to improve our financial situation and control.
At Inter
we are already going in this direction
, but we need to be all together, otherwise Serie A will die."
San Siro
will host the
next Champions League final
, while Inter and Milan are still sharing the city council's stadium. According to the DC United co-owner, this situation is not going to last long.
"San Siro is among the best stadiums in the world. The 2016 Champions League final will be held here and
both us and AC Milan will benefit from some renovations.
We invested a lot in San Siro and we'll carry on doing it. I'd like to work together with AC Milan, but
they need to tell us which way they want to go."
"We are ready to work to improve San Siro either alone or together with AC Milan, they just need to let us know what they want to do."