Tronchetti Provera: 'Inter need to play for 90 minutes, Messi is the dream'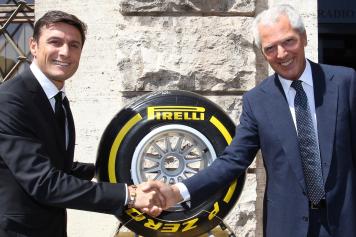 30 November at 11:20
Longtime Inter sponsor Marco Tronchetti Provera has backed Coach Stefano Pioli, while claiming that the Nerazzurri have some work to do to get better.
The CEO of tyre manufacturer Pirelli, who have been Inter's sponsor since the mid-90s, also mentioned that his "dream signing" would be none other than Lionel Messi.
"It's a team with great potential, but some mechanisms need to work better,"
Tronchetti Provera told Sky Italia
, "Inter are very strong up front, but they need to be more consistent, and make more of an effort. For 90 minutes, too, not 45".
He then spoke about Inter potentially signing Lionel Messi, something not to be excluded since new owners Suning have said they'll break the bank to strengthen the Nerazzurri.
"Messi is always my dream, though to each his own".
Tronchetti Provera was also kind about Suning, who he had recently
criticized for not being based in Italy.
"Moratti won't return to Inter? He will always remain close to the club, that's for sure.
"Having Steven Zhang present in Milan is an important step forward, which will add certainty to both the Coach and the team".
He also had some words of support for Coach Pioli, as well as new boy Gabigol,
who was presented in Pirelli's glitzy auditorium.
"Gabigol? He arrived at Inter as the team was going through its worst patch in recent years.
"A youngster needs an ideal environment in which to express his potential".
"Pioli is an expert Coach, knows Calcio well and will do well".
@EdoDalmonte