WATCH! Limitless Francesco Totti scores a brace to give AS Roma vital win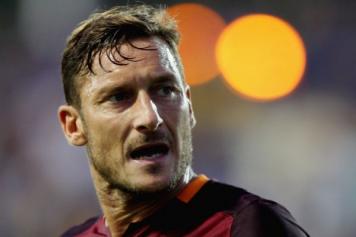 21 April at 12:32
Franesco Totti scored a brace in AS Roma's 3-2 win over Torino in a Stadio Olimpico Serie A clash on Wednesday night.
The
Giallorossi
were 2-1 down when the legendary captain netted his second goal in the last two games in the 86
th
minute, just 15 seconds after replacing Seydou Keita.
Totti, 39, scored the winner from the spot into the stoppage time giving his side a vital victory which allows them to distance direct rivals Inter in race to qualify to Champions League.
Totti's deal runs until the end of the season and the club seem not eager to extend the legend's Olimpico stay.
Fans jeered at manager Luciano Spalletti before the game for his criticisms towards the captain after he had netted the equalizer against Atalanta last week.
Goooooallll!!!!!! #Totti!!!!!! The saviour, the king, the man!!!!! How about that #Spaletti? 2-2 #RomaTorino pic.twitter.com/1SzEy1KfE6

— Lega Serie A (@SerieAchannel) 20 aprile 2016
#Totti!!!!!!!!!!!! TOTTI TOTTI TOTTI!!!!!!!! People are in tears!!!! #TOTTI saves #Spaletti!!! 3-2 #RomaTorino pic.twitter.com/Jk6sCXRryu

— Lega Serie A (@SerieAchannel) 20 aprile 2016
What #TOTTI does to people. #LEGEND pic.twitter.com/XWcbEC6oaS

— Lega Serie A (@SerieAchannel) 20 aprile 2016