WATCH: Roma commentator loses his mind at Dzeko's horrible miss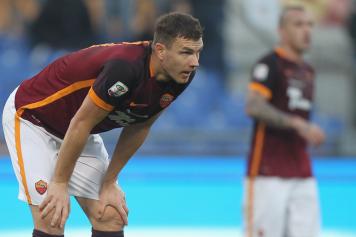 24 April at 19:11
Think Francesco Totti should be starting tomorrow against Napoli?
You may not be the only one.

Though Roma manager Luciano Spalletti has recently settled on an attacking trio of Mohamed Salah, Diego Perotti and Stephan El Shaarawy, it's the soon-to-be-jobless Totti who has saved the Giallorossi in three games in a row, netting the equaliser against Atalanta, setting it up against Bologna, and completing the Lupa's comeback and smashing in the winner against Torino.

Whilst the 38-year-old is scoring goals with aplomb, Roma's only other realistic alternative is, er, this guy.

It's not been the most encouraging of seasons for Edin Dzeko, who arrived in Rome to much fanfare only to pay the Giallorossi back with only 8 Serie A goals. It could easily have been 10 had he buried two chances with the goal gaping, the second of which came last week against Atalanta.



Cue official AS Roma commentator Carlo Zampa's reaction, translated here for the benefit of our English-speaking fans:

"Dzeko, Dzekoooo!

OH GET OUT OF HERE! COME ONNN!
THE GOALIE WASN'T EVEN THERE AND YOU STILL HIT IT OUT? COME ON!

"Perotti's right, I have no idea what he's said to you...but it's not as bad as what I'd say to you!"
"Perotti was RIGHT THERE, you turned around and FIRED IT OVER? The goalkeeper wasn't even in goal! A chance blown!"
What a signing Dzeko is turning out to be! Say, does anyone have a spare €14.5 million lying around?
@EdoDalmonte