Who will Juventus exclude from their Champions League list?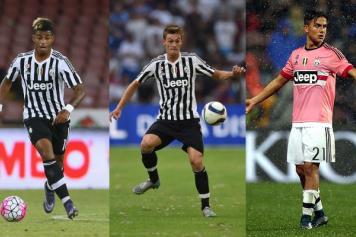 24 August at 14:49
After beating Fiorentina in Week 1, Juventus have a new priority: Europe, and the list they'll have to supply UEFA by September 1st.
So far, the list of players the Bianconeri will go with is known: beyond the stars and most of their new signings, this will definitely include Marchisio, Marrone and Audero, who count towards UEFA's quota of home-grown players.
But who won't be on the list? Paolo De Ceglie is being sold and is not considered to be part of the squad. Rolando Madragora and Hernanes are also out, the former through his four-month injury layoff (he can still be a sub in February), the second because a number of Chinese clubs, as well as Sevilla and Valencia, are trying to sign him.
For the three places left, however, there are five players still in the hunt: Mario Lemina still has teams after him, and could be left out. He is also likely to travel to the African Cup of Nations, and Juventus already have Kwadwo Asamoah and Mehdi Benatia, and won't risk a third spot in that sense.
Simone Zaza is another doubtful, but because his future may well be far away from Turin. Marko Pjaca looks like he may be sacrificed, as the Bianconeri's attack (Higuain, Dybala and Mandzukic) looks well stocked, anyway.
Stefano Sturaro's place is hardly secure, either, as he's still recovering from the knee injury which constantly tormented him this summer.
The last problem is linked to Daniele Rugani: with the BBC, Benatia and the starting wing-backs already in the squad, Juventus are full to bursting. There's more: unlike in Italy, UEFA doesn't consider Rugani to be a homegrown player, seeing as he spent two of his formative years at Empoli. Being co-owned by the Bianconeri at the time isn't enough, in their books.
Adapted by @EdoDalmonte