Zaza still fourth choice at Juve despite best minutes per goal ratio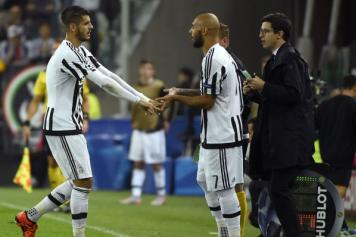 17 December at 16:34
Simone Zaza's
21 goals in 69 games with Sassuolo
over the last two seasons convinced Juve to sign the 24-year-old on a
€ 18 million deal
from the
Neroverdi
side last summer.
At the beginning of the season, Zaza struggled to adapt to life at the Juventus Stadium as
Fernando Llorente
was part of the Old Lady's attacking pack alongside
Mario Mandzukic, Alvaro Morata
and € 40 million signing
Paulo Dybala.
After two months of intensive summer training sessions, Zaza
seemed not to be ready to be part of Juventus' squad with Marseille and West Ham United
that were ready to put the player under contract.
Former Sassuolo star
turned down both clubs' approaches
as he wanted to play his cards with the Old Lady.
Eventually, he was right.
Llorente left the club instead of Zaza at the end of the summer transfer campaign,
heading to Sevilla FC on a free transfer
and Zaza was – and still is – Massimiliano Allegri's fourth option up front.
Hold on, don't get confused.
Despite Zaza's status at the Stadium, he is the Juventus player with
the best minutes per goal ratio
this term.
Zaza has netted
one goal every 91 minutes
, none has recorded such a similar rate at the club thus far.
Paulo Dybala and Mario Mandzukic
have one every 143 and 158 respectively
, while Alvaro Morata has found the net of the goal once every 380 minutes.
Not only, Zaza is also the
only Juventus player who has scored at least one goal in all competitions
this term.
So, what about his future at club?
Italy head coach
Antonio Conte thinks extremely high of him
, though he told Zaza that he needs to play on a regular basis if he wants to be part of the
Azzurri
squad for EURO 2016.
Saussuolo President Giorgio
Squinzi ruled out his return in exchange of Domenico Berardi
yesterday but a lot of Serie A sides are interested in the player's services as well as Premier League's
Waltford and Stoke City
.
Despite his stunning minutes per goal ratio, Zaza
will remain Allegri's fourth choice up front
for the rest of the season and
Ezequiel Lavezzi
might put some extra competition into Juventus' changing-room, in case he'll sign with the Old Lady in January.
Circumstances given, should Zaza wait for his turn at Juve or should he leave to play on a regular basis?
Lorenzo Bettoni (@lorebetto)