Borussia: '15 million euro for Barrios'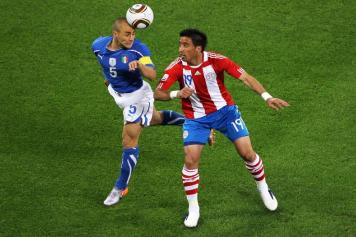 04 October at 18:00
The Argentine forward with a Paraguayan passport, Lucas Barrios is one of the most important players in the Bundesliga. So far, he's scored 4 goals in 7 appearances with Borussia Dortmund.
Calciomercato.com spoke about his future with his agent Sabatino Durante: "I had some negotiations in Italy for him last summer, but they all failed. You don't need to be an expert to understand that he's a good player. The problem is that in Italy we are always late. When he was at Colo Colo, I brought him to an Italian sporting director who is known for his "long sight", however, in this case, his sight was short...".
It's difficult that Barrios will arrive to Italy in January: "No, he's not available in January due to Borussia's demand. The Italian market, apart from AC Milan and Juventus' acquisitions, is characterised by a lack of liquidity. Barrios has a high price and I think he won't move in January. Then anything can happen in football".
Napoli and Milan were interested but Borussia asked for 15 million euro: "In his first year in the Bundesliga he scored one goal less than Dzeko. If you compare him to Pazzini, Gilardino or Borriello, he is more or less on the same level".
Finally he revelead: "I spoke with Milan and Napoli, they were interested, Napoli wanted to replace Quagliarella. Then they acquired Lucarelli. I also spoke with Galliani, but nothing happened".
Luca Talotta