Florentino: 'Ronaldo back to Real Madrid'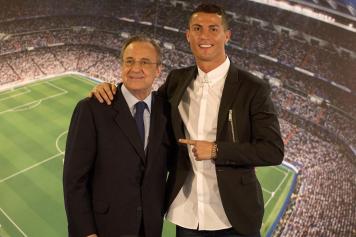 25 September at 10:10
Real Madrid president Florentino Perez has opened door to a possible return of Cristiano Ronaldo to Real Madrid. Speaking to
El Chiringuito on Monday night the club's no.1 said:
"Cristiano is the heart of every Real Madrid fan. If I had saw him today I would have hugged him. He is the natural successor of Di Stefano and he will be back at Real Madrid one day."
Looks like Florentino is already missing the Portuguese ace who joined Juventus for € 112 million last summer.
Ronaldo has scored three goals for Juventus so far this season helping the
Bianconeri
to seal wins against Sassuolo and Frosinone.
This is the second time in the space of a couple of days that Florentino speaks about Ronaldo. Earlier last week he claimed that Real sold him
to Juventus because 'they didn't receive any other offer' for CR7.
Ronaldo did not attend yesterday's 'Fifa The Best' Award
because Juve will play against Bologna tomorrow.