Hamsik to Milan: 5 reasons why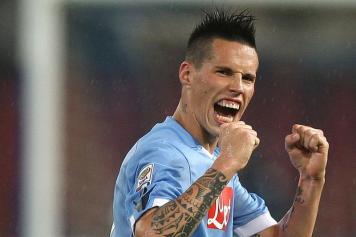 21 June at 13:00
There is still time for Milan's mister X, there are still two months to the end of the market, but among the many names that circulate, that of Marek Hamsik seems the most credible. Something is cooking besides the usual denials and Silvio Berlusconi's comments, who reassured the Napoli fans about the player's future. There is a good chance that Hamsik will become Rossonero and there are five reasons why:
He is the mister x that Allegri is looking for. He does not perfectly fit the bill but tactically he is the player Milan is looking for because he can play winger and quarterback.

The role of Raiola: the agent who brought Ibrahimovic, Robinho and Van Bommel to Milan does not directly follow Hamsik's interests, but works closely with his agent Juraj Venglos. His involvement in the negotiations cannot be excluded.

Braida: speaking to a Neapolitan radio station Ariedo Braida, rossonero director, did not exclude the possibility of Hamsik going to Milan: "In football everything is possible and nothing is impossible".

Napoli's market: Lamela is not alone. Bigon is changing the midfeild, with arrival of Santana and Donadel and the always more probable of Inler and Dzemaili. Then there is Lamela, who plays in the same role as Hamsik so the work done by Braida could become useful for an exchange .

No Hamsik in Napoli's Merchandise. In Calcio Napoli's next official line of school merchandise, which will be launched in the next few days, someone will be absent. Paggio who are manufacturing the goods, have made backpacks, pencil cases, books and all the school accessorise with only Cavani and Lavezzi.