Higuain, like Vieri, Del Piero and Inzaghi: the king of goals who never won the Scudetto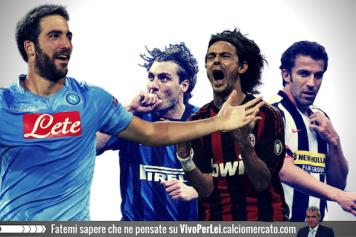 27 April at 13:51
At first glance it seems like a simple statistic if not a little random; in the last 40 Serie A championships since 1976-77, only seven times has the team that's won the Scudetto contained the top goalscorer of Serie A. Higuain is the latest name to add to a long list of famous players that have failed to combine the two. Despite his eventual three-match suspension, the Napoli striker has 30 goals, whilst the next best total of 16, belongs to title winner Paulo Dybala.

As we stated right at the top, only seven occasions during this period, has the Scudetto winners contained the Capocannoniere; Platini at Juventus in 1984, Serena with Inter in 89, Vialli with Samp in 91, van Basten at Milan in 92, Trezeguet (although he was equal with Hubner) with Juve in 2002, Shevchenko at Milan in 2004 and finally Ibrahimovic with Inter in 2009.

There does exist however, almost paradoxical situations such as Roberto Pruzzo who was top goalscorer three times in 81, 82 and 86, yet who won the championship with Roma in 1983. Another two examples of this were Virdis and van Basten at Milan, top scorers in 87 and 90 respectively, when the championship went to Napoli and even the great Maradona, Capocannoniere in 1988, sandwiched between his two scudetti with the vesuviani. The list continues from Bettega to Batistuta, Inzaghi to Crespo, Vieri to Totti and Del Piero.

So a simple statistic it may be; but look a little closer and it becomes clear that one player obviously does not make a team. In other words, to win the scudetto you need a team of champions, not just individuals. The Juventus team of Lippi in 1996-97 won the scudetto and got to the final of the Champions League and yet none of that team scored more than eight goals during the campaign, Del Piero, Vieri and Padovano all eventually reaching that figure. So who was top goalscorer in that particular season? Inzaghi, who netted 24 times with Atalanta.


Original article by di Stefano Agresti, translated by Steve Mitchell @barafundler