Inter want Silvestre!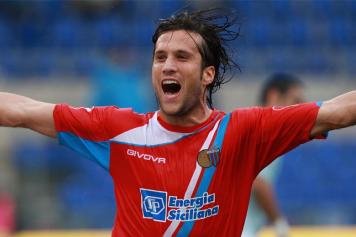 05 July at 15:50
Today Gian Piero Gasperini said in a press conference: the idea to play with 3 players in defense is not a journalists' invention. For this reason Inter have not trasferred Luca Caldirola to Cesena. Obviously they need more players behind. Most likely the first liners will be Samuel-Lucio-Ranocchia (unless there are last minute surprises about the Brazilian's future). Inter are now lacking in quality substitutes. Ok, Chivu can play more central, Cordoba is not performing as he used to do, Materazzi left.
That's why Branca is looking for a good defender. Ogbonna is liked, but he's too expensive. The surprise could arrive from Catania. Pietro Lo Monaco is considering offers for Matias Silvestre. Lazio are offering 4 million, but Catania want 7. If Inter can offer 5-6 they could get the player.
Why Silvestre? There is more than one reason. First, he's fit, not too young (27) and immediately ready, unlike the immature Caldirola or Ogbonna. Second: he played with a similar module at Catania with good results. Third: he's significantly improving (he scored 6 goals last season). Fourth: he's from Argentina and would not have problems with the other teammates. Finally, he's not too expensive...
M.G.