Milan's summer revolution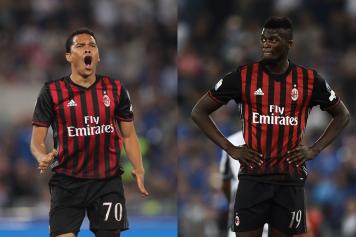 26 May at 18:26
The future of Milan on and off the pitch remains a puzzle. Whilst we wait to hear whether President Silvio Berlusconi will sell to the Chinese, Adriano Galliani must continue working for reinforcements to make the squad competitive once again. Already it's clear that Alex, Mexes, Boateng and Balotelli will not be part of the new Milan, now comes the problem of replacing them.

TWO FAREWELLS', A RETURN AND A NEW PURCHASE
It's the defence that will see the biggest shake-up with both Alex and Mexes not being offered new deals at the club. The Brazilian has been in negotiations but the two parties have failed to find a satisfactory agreement. The Frenchman's time at the club has been coming to an end throughout the season and with both players earning a combined salary of €4 million net, the rossoneri are anxious to remove them from the payroll. Replacements should arrive in-house with Zapata set to extend his stay and Palletta returning from his loan spell with Atalanta. It seems as though only one new signing will come in to play alongside Romagnoli in the centre of defence.

Two more players bidding farewell to Milanello are Kevin Prince Boateng and Mario Balotelli. The rossoneri took a chance on both and it backfired spectacularly. The former arrived from Schalke 04 in January and accepted a short-term contract to try to prove that his best days were not behind him; evidently they are. Balotelli meanwhile, has only scored three goals all season since heading back to Italy from Liverpool. It with some regret that people are now only seeing a shadow of the player we witnessed in Euro 2012 and with his parent club Liverpool not wanting him back, his future remains uncertain. Other players whose futures are in danger are Luiz Adriano, Jeremy Menez, Carlos Bacca and M'Baye Niang. Excluding Niang and Boateng (who were earning approximately one million euro net) all the others are on substantial contracts and without considering the value of the price- tag, the saving of these salaries would allow a large margin for manoeuvre on the transfer market.


Adapted from an original article by Federico Albrizio. Translation by Steve Mitchell