Milan senators take team-mates to task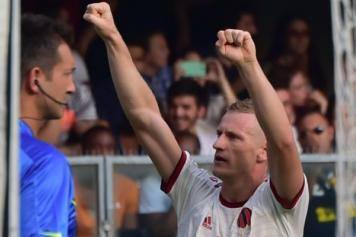 14 March at 10:36
All is not well at Milan right now.

Despite a string of impressive results - including a run of 12 games unbeaten and qualification to the Coppa Italia final - the Rossoneri are coming off two unconvincing performances, including yesterday's uneventful 0-0 draw with Chievo.

With the Repubblica reporting that Silvio Berlusconi is more and more disenchanted with Sinisa Mihajlovic, and the Gazzetta's front page reminding us that the Rossoneri are now 11 points short of Champions League qualification, one would think that Milan had enough problems to think about.

Yet veteran players Cristian Abbiati and Ignazio Abate aren't happy about their team-mates supposed lack of commitment. Sentiments which transpire in what they said yesterday after their draw in Verona.

"You can't go unbeaten for nine games, then play two like this" Abate said on Sunday "We can't be content with 6th place, an some of us shouldn't think that they've arrived, just because they're here. They could end up leaving."

Abbiati chimed in straight afterwards:
"This is Milan, I just can't reconcile myself to our last two performances. I'd hate to think that some of the players have grown comfortable. I'm alluding to those who answer back when they're criticised, who see it as an insult and don't take it constructively".

There is some good news, Milan fans: Paolo Maldini thinks Mihajlovic needs time. Ya think?