Official: Higuain out for AC Milan clash against Empoli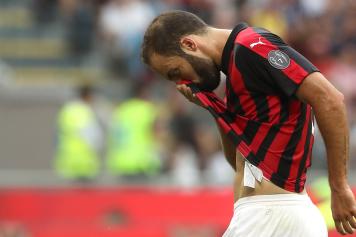 26 September at 17:13
AC Milan striker Gonzalo Higuain
has not joined his team-mates for the trip to Tuscany
where the
Rossoneri
will face Empoli tomorrow.
The Argentinean
has been included in the Rossoneri squad-list
by Rino Gattuso but the Argentinean is
not going to be eligible to play against the Tuscans tomorrow.
AC Milan manager Gennaro Gattuso confirmed Higuain's problem during today's press conference but claimed that the player would need to undergo a test tomorrow to see if he'd be eligible to play: "
Gonzalo has a problem at his leg. It's an old scar that makes him feel pain. He has been struggling for the last couple of days
and tomorrow we will make a test to check his conditions",
Gattuso said.
​Unfortunately for AC Milan,
there will be no test in Empoli tomorrow as Higuain is not traveling with his team-mates
and has remained in Milan to recover from his leg injury.