PSG star Matuidi: 'I thought about joining Juventus this summer'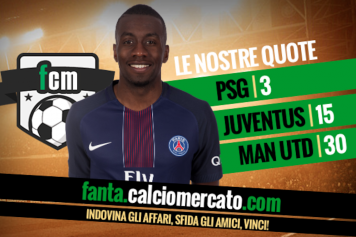 08 November at 14:33
PSG superstar Blaise Matuidi has confirmed that Juventus were very interested in signing him this summer... and that he himself was very enthusiastic about the five-time Serie A champions.

It appears that their ability to contend in the Champions League had something to do with his interest.

"I was on holiday but I could still hear all the rumours about this move [to Juventus]," he told L'Equipe in a recent interview, "I asked myself a lot of questions, and the answer that came to mind was that the time may have come for me to leave PSG".
The 29-year-old delved further into the situation:
"The topics I covered with Juventus fuelled this desire. They're an ambitious club that wants to win the Champions League, like PSG".
Matuidi also admitted that Juventus star Patrice Evra had played a role. "I called him to ask him for advice, he spoke well about Juventus. It wasn't only about money. He reassured me about what I knew about the club".
Then again, this didn't look like an attempt at opening up to Juventus, with the former Saint-Etienne man then confirming that "this episode is part of the past, today I'm at the centre of PSG's project. My time in Paris isn't over.
"I'm happy at the club, and I've been offered an extension. Until 2020? It's possible…".
@EdoDalmonte