Horncastle: Can Pioli turn the Inter basket case on its head?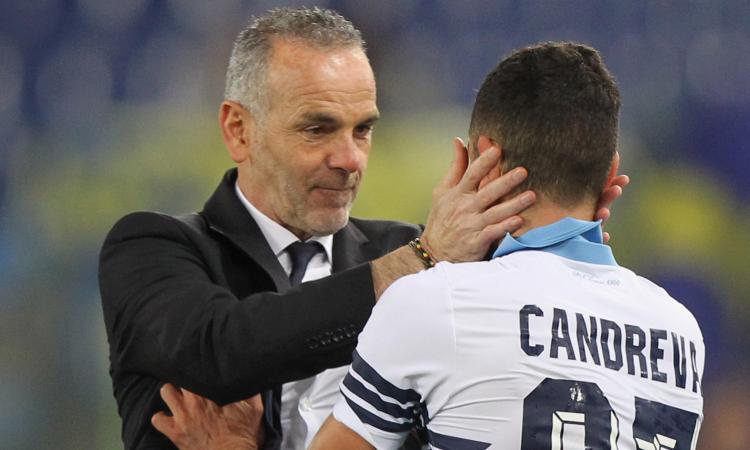 Commenta per primo
There was a time when people used to call Bayern Munich and Olympique Marseille FC Hollywood for the sheer drama and comedy they produced. This year's Oscar goes to Inter who appear to have no problem whatsoever seeing themselves as a dysfunctional movie studio.
Since Frank de Boer got the sack last Tuesday, a "casting" has been underway to find a new leading man. Marcelino and Gianfranco Zola flew in for an audition, sat on Inter's couch and must have gone off script because neither in the end got the part. The studio went for the critics' choice instead.
The role is Stefano Pioli's big break and all will be announced once he extricates himself from his contract with Lazio. His appointment has received widespread acclaim, essentially for being the most sensible. Implicitly it showed Suning trust the judgement of director of sport Pier Ausilio as Pioli was the candidate he put forward. If they had chosen Zola at the recommendation of Kia Joorabcian more questions would have been asked about who really calls the shots at Inter.
Importantly Pioli was endorsed by Inter captain Mauro Icardi after Sunday's 3-0 win against Crotone. "I'm not the one to tell the club whether they are making the right decision or not. It's up to them." But… "It would be better if an Italian were to come in because they would already know the league and there's no time to waste. It's almost Christmas."
Pioli has experience of coming in and turning clubs around when the season has already started. Bologna were in serious jeopardy of relegation when he replaced Pier Paolo Bisoli in October five years ago. In the end he kept them up in style. In fact, their record in the second half of that season was the fifth best in Serie A.
Taking Lazio to a Coppa Italia final and the Champions League preliminaries further enhanced his status and the team he had in Rome bears some similarity in its composition to this one with its flying wingers. Both have the figure of Antonio Candreva in common whose nose Pioli incidentally put out of joint by overlooking him for the captain's armband at Formello.
The questions I have are as follows: can this defence play a high line? Miranda has asked the team to come deeper in order to better protect the back four. Poor organisation and wide open spaces between the lines were as much to blame for the discomfort he felt as any genuine insecurity about a lack of pace on his and Jeison Murillo's part though. More importantly who is Inter's Lucas Biglia? Other than that and the not insignificant matter of the club being a basket case, Pioli should get the team playing closer to its potential. How close in time for the derby, which will be his debut, remains to be seen.
Thirteen points behind Juventus, the champions won where Inter lost on the opening day, edging out Chievo at the Bentegodi without Giorgio Chiellini, Claudio Marchisio, Sami Khedira and Paulo Dybala. To make matters worse they also lost Andrea Barzagli to a dislocated shoulder after five minutes. Understandably and in keeping with the general trend this season, this wasn't vintage Juve. "We are a country famous for fashion," Max Allegri said, "and at the moment it's fashionable to say we don't play well."
Things looked complicated when Chievo equalised through talismanic striker Sergio Pellissier who dispatched a penalty given away by Stephane Lichtsteiner. A rather counter-intuitive substitution then turned the game back in Juventus' favour. Patrice Evra came on for Gonzalo Higuain and all of sudden the Old Lady started creating chance after chance, including the free-kick from which Miralem Pjanic scored to clinch all three points.
Likened to Trap for seeing what nobody else could see and making a change that made no sense at all at first glance but still had the desired effect, Allegri countered the suggestion that, although a hallmark of his management, this move is not formulaic. "We often like to make out that football is an exact science," he smiled. "It's not. There are feelings, sensations. You take off one player and put on another… There are moments within a game. If it were all so easy, you wouldn't even need a coach on the bench. It is not science, for instance, if Pjanic scores a free-kick. This is like trying to teach birds how to fly."
You can't. Was the Evra-Higuain change not a calculated gamble though? "No, no. Football is art played by people who understand football. It's like everything in life. Like painters who paint, people who play basketball… If life wasn't like this everybody would be the same. It's too easy to mechanise the game of football and make it out to be an exact science. I repeat, it's like trying to teach birds how to fly."
In other words, you can't teach instinct, intuition and inspiration. While focused on highlighting the genius of great players and specifically the innate unteachable nature of Pjanic's skill, Allegri's point here also seemed to be that this is every bit as true of a manager and his decision-making.
Still within four points of Juventus and looking very good indeed are No.1 contenders Roma. "How come a team that plays football as beautiful as yours isn't top of the table?" Sky Italia's Paolo Assogna asked Luciano Spalletti after Sunday's 3-0 win against Bologna. Good question. A traumatic start in the Champions League play-offs, not helped by injuries at the back and the insecurity it brought, and some misfortune would be my answer. Two-nil up in Cagliari in August, Roma should have won that game and were desperately unlucky not to beat Empoli last weekend when Lukasz Skorupski, the goalkeeper they loaned to the Tuscans, gave the impression he would have saved every grain of sand if a handful were tossed at him.
Spalletti, it must be said, deserves great credit. Even with Antonio Rudiger's return, the defence is still makeshift and won't be Roma's first choice until Mario Rui also recovers from knee surgery. Right now the midfield is the best in Italy and the irony isn't lost on Roma given they lost Pjanic to the Old Lady in the summer. Capocannoniere Edin Dzeko didn't find the back of the net at the weekend, but Mo Salah did. The first hat-trick of his career restored Roma's status as the league's top scorers.
Perfect at home, where they have won all six games in the league this season, they are unbeaten at the Olimpico under Spalletti. You have to go back almost a year to find Roma's last defeat in the capital. It was the beginning of the end of the Garcia era. The wheels came off quite spectacularly and Roma lost ground. There is confidence it won't happen again under Spalletti. Roma need to maintain this momentum after the international break all the way into their trip to Juve on December 17.
Napoli meanwhile appear unable to keep up. For all the attention given to Arkadiusz Milik's injury and the lack of a striker, a mistake by Pepe Reina, the decline in performances by the back four and Jorginho and Lorenzo Insigne's run of 21 games without a goal all merit consideration as well. Two wins in eight matches in all competitions would indicate that, while Napoli continue to be a decent watch, a Plan B wouldn't go amiss. However, Maurizio Sarri hasn't taken too kindly to that very suggestion from owner Aurelio De Laurentiis. "It'd be better if he said some things to me in private," he bristled.
Now sixth, competition for a Champions League place is heating up. Milan's win in Sicily was their fifth in six games.
Torino are blowing teams away and haven't scored so many goals since the days of the Grande Torino. "We're like Jake La Motta," Sinisa Mihajlovic said. "The Raging Bull."
Lazio are now unbeaten in seven, reminding everyone that this team finished on the podium [at Napoli's expense] the season before last and, Candreva aside, have more or less the same team although with a striker, who was Capocannoniere not so long ago, up front.
Saturday's point at the San Paolo was a sign of progress after defeats earlier in the season to Juventus and Milan. People will point out Napoli lack a centre-forward, but Lazio were without first choices defenders Stefan de Vrij and Bartolomeu Bastos, and played Dusan Basta at centre-back.
Atalanta haven't been this high up the table come November since 2000. It's now six wins in seven and one of their players jokingly asked: "What's the Juve result?" upon re-entering the dressing room on Sunday as if they are in a title race. How long they can stick around is less obvious than it is with Milan and Lazio, but it was wonderful to see their kids combining again in Sunday's 3-0 win against Sassuolo. Eusebio di Francesco's team really miss Domenico Berardi and are understandably struggling to come to terms with the Thursday-Sunday schedule of the Europa League. Down in 15th, they shouldn't be too worried with a break coming up and a six-point gap between themselves and a historically bad group of teams cut adrift at the bottom.