AC Milan deny reports that Sino-Europe have provided false bank documents in talks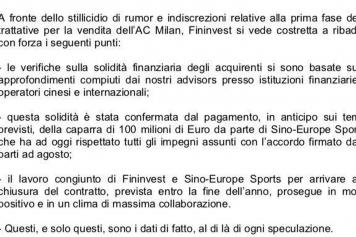 23 September at 19:05
It is becoming increasingly apparent that AC Milan's supposed new owners don't have the money to complete the takeover.
Set to buy out the Rossoneri by the end of this year, the Sino Europe Sports Investment is now being accused by local paper Caixin to have provided AC Milan with
another
allegedly fake document.
The fund had previously been accused of doing this (with an earlier document)
by Bloomberg
recently, an accusation met with the threat of litigation.
Now, Caixin report Yui Huling writes that Yonghong Li & Co sent a document to the Rossoneri purporting to be from the Bank of Dongguan, which helped guarantee the group's financial viability.
The Bank has, however, denied ever having issued it.
Today's Sole 24 Ore has an article by Carlo Festa in which the esteemed writer claims that Sino Europe, the Haixia fund and the Yongda Group don't have the €400 millon needed to buy Milan.
He believes that banks from China and Hong Kong will be needed to buy the club, a bit like what Erick Thohir did when he took over Inter, only to hand it over to a more credible owner.
UPDATE:
AC Milan have denied reports about the Chinese consortium presenting two false bank documents during early takeover talks, here's the translation of the official statement published on their Italian website.
Following the latest rumours, Fininvest are forced to insist on the following points:
We've verified guarantees of investors through Chinese and International financial institutions.
Their financial solidity has been confirmed by the €100 million deposit paid by Sino-Europe Sports which has also respected all the agreements previously taken.
There is maximum collaboration and serenity between Fininvest and Sino-Europe ahead of the closing which is expected by the end of the year.
These are the only true facts, all the rest are just rumours
Adapted by @EdoDalmonte and @lorebetto