Amalfitano: The Curious Case of Manolo Gabbiadini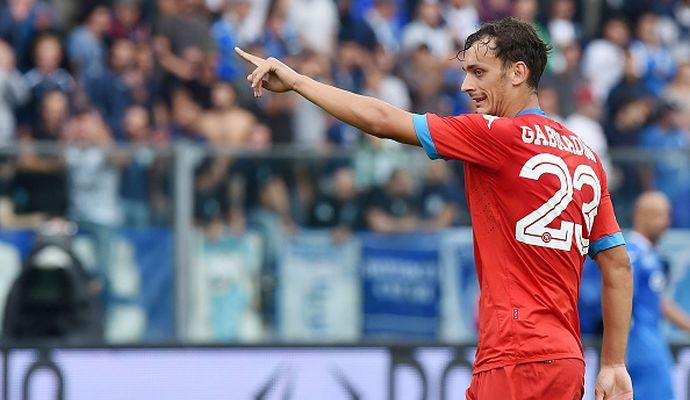 Commenta per primo
It's been quite the year for Manolo Gabbiadini.
Following a much-hyped transfer from Sampdoria to Napoli last January, Gabbiadini didn't eschew the challenge, adding eleven goals to the nine he'd scored for the Genoese side, and justifying Aurelio De Laurentiis' €13 million investment.
Discussed as he was, Rafael Benitez's rotation policy meant Gabbiadini saw plenty of minutes – more so in Serie A since the Spaniard prioritised the Europa League – out wide on the right or in the hole.
With Maurizio Sarri coming to town with the 4-3-1-2 he'd used to great effect at Empoli, everyone expected Il Gabbia to be paired alongside Gonzalo Higuain up front.
Looking at the bigger picture, Gabbiadini's versatility meant he could play in any of the three attacking positions made available in the new setup, with the support striker role accentuating his talent the most. The 24-year-old showed his quality in his first start in that position against Empoli, providing two assists as Napoli broke even with Sarri's old side.
Unfortunately for the former Bologna and Samp striker, the 4-3-1-2 was scrapped - Sarri was growing uneasy at its its ultra-narrow defensive shape, and Jose Callejon's inability to adapt to an unfamiliar narrow role whilst playing off Higuain.
In its place, Sarri tested the 4-3-3, which found instant success with back-to-back 5-0 victories (over Club Brugge and Lazio). Napoli have since gone on to win a total of 17 matches, drawing three times and losing just once, all while scoring 53 goals and conceding 10 in the process.
Perhaps the most important aspect of the new formation has been Sarri's reliance on the same exact starting XI, leaving the the rest of the squad to ply their trade in the Europa League and Coppa Italia, with seemingly little chance of breaking through into Sarri's Serie A lineup.
Simply put, while Rafa's policy made sure Gabbiadini found regular minutes. Sarri seems unmoved in altering his Insigne-Higuain-Callejon attacking trident, with even pacey winger Dries Mertens left out to dry.
Any hope of supplanting Higuain - who started last season poorly- were dashed by a flurry of goals, one more decisive than the other. Simply put, El Pipita has been playing out of his mind this season. With 16 goals in 17 matches, the Argentine is leading the Serie A's scoring charts, making everyone forget his antics and flustered attitude last term.
Perhaps if Higuain wasn't in such rampant form, you'd imagine Gabbiadini wouldn't find his playing time to be so sparse.
What's worse is that, when given the chance, Gabbiadini has been a constant threat going forward, finding the back of the net five times this season. It's almost worse that he has been good: knowing that he'd be good enough to start for anyone else (including Juventus, who used to own 50% of him) is mere salt in his wounds - and ours.
Case in point: when Antonio Conte took a chance on him in Italy's last friendly against Romania in November, Manolo scored, only to but leave the field due to an injury that has pretty much kept him out since.
What perplexes most neutrals is Sarri's insistence on starting Callejon ahead of Gabbiadini, seeing as the Spaniard has yet to score a single goal in Serie A this season.
Problem is, the Neapolitan-born tactician doesn't think the Italian can be trusted from a defensive perspective. On the other hand, according to Opta, Callejon is the attacker with the most recovered balls in Serie A since 2013 with 399, while recording 69 so far this campaign and leading the league.
With Euro 2016 just around the corner, Gabbiadini finds himself in a tough spot. He certainly has the quality to start for a number of teams in the peninsula and hit 20+ goals in a season. He's also in the running to be picked by Conte.
The question is: does he leave the club he joined just a year ago in search of regular playing time, or stick it out, knowing the matches will begin to pile up, and he'll be able to find minutes one way or another?
It's certainly a tough decision from the player's perspective, especially considering West Ham, Inter, Bologna, Sampdoria have already reportedly stated their interest. But Napoli don't seem too open to parting ways with the forward unless a substantial offer arrives and a replacement is brought in.
Whatever decision Gabbiadini takes we hope it's for the best. He's one of Italy's upcoming talents and a place at Euro 2016 is definitely reachable for the deadly left-footed forward.