AMALFITANO: Blunt Napoli unable to find breakthrough against Roma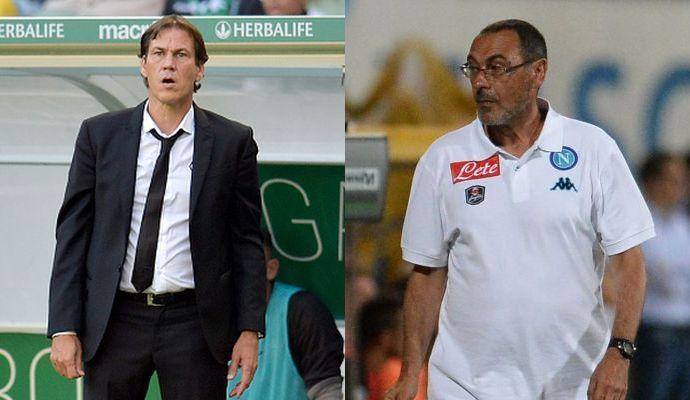 Commenta per primo
Billed as one of the best matches of the weekend, Napoli hosting Roma ended in a manner in few which expected: scoreless.
Yes, that's right.
Even more surprising is that the away side failed to
register a single shot on target
in the entire contest, last event of a similar nature for the Roman club dating back to 2008.
Maurizio Sarri needed a strong performance from his men after last weekend's away defeat to Bologna, with the club's title credibility coming into question as we approach the midway point of the season.
The Naples-born coach fielded the lineup everyone expected while Roma had to fare without Gervinho, who suffered an injury relapse last time out against Torino. Instead,
pace
would look to be provided out wide through
Mohamed Salah and Iago Falque.
Long balls from the back
were a noted problem for Sarri's side to contain against Bologna, and Roma looked to punish Napoli in the same manner.
Although it appeared the tactic would be used periodically throughout the game, it seemingly became the main method for Roma's play going forward.
Wojciech Szczesny attempted 27 long balls
from the back, mainly in search of Dzeko and Roma's wide men, completing 13 of them.
Rudi Garcia has been walking a tight rope after the 6-1 thumping by Barcelona, but group stage progression and a point in Naples – both scoreless draws – might have cooled off some intense pressure in the capital. The Frenchman set up his side in a very organized and defensive fashion;
10 men defending deep behind the ball
was perhaps not the match many were expecting.
You could argue a similar approach against the Catalan giants at the Camp Nou would've produced a different result, especially when their biggest priority was not letting the home side score. According to Opta, Roma managed just
five touches in their opponent's box
, illustrating just how conservatively the Giallorossi approached the match.
The first twenty minutes of the contest saw
Napoli unable to establish a rhythm
, uncharacteristically forcing passes and getting outmuscled by the visitors. Playing a much more direct style did the home side no good, but as they grew into the game we began to see a familiar Napoli through their patient possession and passing combinations.
But turning back to Roma, despite their disallowed goal, it became apparent as the match went on that they would be the less likely team to score. Garcia's side didn't take too many risks to venture forward, opting to stay compact and rely on their blanketed defence.
It became an
attack vs defence battle
, with Kostas Manoloas and Szczesny clearly the best for the Giallorossi and greatly contributing to a Roman clean sheet.
When did they have possession of the ball, Roma looked to get in behind Napoli's defence in wide areas and through lobbed attempts. However, Napoli's defence wasn't particularly troubled with
Kalidou Koulibaly perhaps the Partenopei's best player on the night
, keeping the backline from being stretched.
Napoli didn't test Szczesny very much in the first half but captain Marek Hamsik will be ruing his two great chances against the Polish goalkeeper. Omar El Kaddouri would also fail to capitalise on a rebound in front of the opposing net.
As it has been the case for some time now, Napoli struggle to take their chances and play with more cynicism in front of goal in these types of matches, something Sarri will need to work on with his men. They did well to dominate possession and create opportunities for themselves – especially when up against a low block backline – but ultimately lacked the decisiveness needed to see off this defensive Roma side.
Surprisingly, after the match Garcia told Mediaset Premium, "We did enough to score a goal", but Miralem Pjanic offered a different viewpoint. The 25-year-old stated, "The team had prepared this game to perhaps create more chances, so we could've created more."
All in all, Napoli should be pleased with large parts of their performance but must learn that
there is more than one way to win
, especially in the situations where a result must be ground out. They will be content for much needed rest as the Christmas break approaches knowing an acquisition or two will benefit Sarri's rotation efforts.
Conversely, by
earning a point in Naples should satisfy Roma in the short-term
, but Garcia must reinvigorate his side to start playing like they did in his first season with the club.
Big questions will be asked in the coming months. Can these two sides keep up in the Scudetto race?