Manchester United-Juventus live: All you need to know about the Champions League game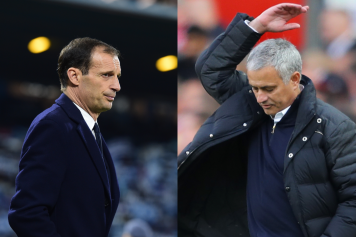 22 October at 22:35
Manchester United take on Juventus at the Old Trafford in Champions League tomorrow night. The
Red Devils
and the Old Lady failed to win in the last weekend (one draw each against Chelsea and Genoa respectively) and will be seeking for a win tomorrow night.
The Old Lady will be without Emre Can. The Germany International could face surgery for a thyroid problem and is not going to travel to England today.
The Serie A giants will be traveling to Manchester after this morning's training session at La Continassa. Manchester United will be training in their complex at 11 am (local time) while the Old Lady will be on the pitch at 11.45 am (Italy time).
José Mourinho and a Manchester United player will be speaking to media at 2 pm from the Old Trafford. Massimiliano Allegri will do the same a few hours later, at 5.55 pm, together with a Juventus team member.
Watch this space for pictures and video from Turin and Manchester and to know all the latest updates ahead of the kick-off. (Pictures and videos in the gallery)
UPDATES:
21:00: Chiellini reveals Juve adorance for Pogba
18:30 Massimiliano Allegri reveals tactical plans for Old Trafford game
18:15 Ronaldo recalls the love Manchester gave him
18:00 Ronaldo returns to Old Trafford
11.45 - Juventus train at La Continassa