OPINION Measuring the Nerazzurri: Crisis versus context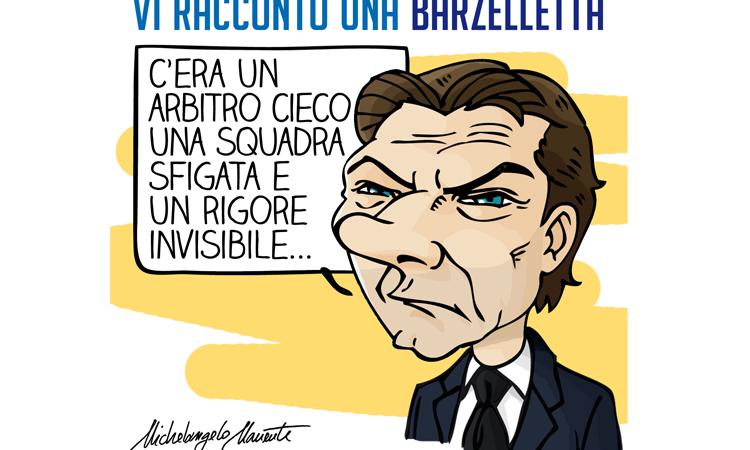 Commenta per primo
As the sporadic rays of warm sunshine warmed the glass panels of Appiano Gentile's office buildings, Inter's Sporting Director Piero Ausilio passed on his comments about recent events. "We're very calm and only one point from the Champions League" he told FCInterNews before attending meeting between referees, directors and club coaches. The comments and the weather seemed to walk hand in hand, as whilst a tumultuous January had left many predicting that the season would be a stormy one, there are still plenty of things to be positive about. There is no question that the Nerazzurri are still far from the finished article but one only needs to look at where they are in context with last season.

Whilst many media outlets insist that Roberto Mancini's team are in crisis, it is perhaps worth looking back at what the club's original goal was. President Erick Thohir has been steadfast in what he wants this team to achieve and reiterated this in January.

"I don't think there's any need to panic," he told Inter Channel "because our objective remains to qualify for the Champions League. It's the media and the fans who demand the Scudetto." With this in mind, the Nerazzurri's plight does not look that bad. Whilst they have certainly disappointed of late, they are still in with an excellent chance of qualifying. Ironically, it is their excellent start to the season that has increased expectation, and their unexpected emergence as Scudetto contenders that has contributed to them dropping points against Sassuolo, Atalanta, Carpi, Milan and Hellas.

Rather than looking back to the beginning of the season and the fact that Mancini's team sat on top of the table with five wins out of five, it maybe pertinent to look back even further still. The previous season had, after all, been the scene of a disastrous campaign that had witnessed the sacking of Walter Mazzarri and then a desperate attempt to recover the Europa League dream as Mancini arrived. The Beneamata would finish eighth, winning only 14 games, drawing eleven times. For comparison's sake, they've already won 13 times this time round, only losing five. There is no doubt that they can still improve in this campaign, and it is also certain that they need to do this quickly. The upcoming February clashes with Fiorentina and Juventus will be a huge test, and a potential turning point to the Biscione's season.

Another overwhelming oversight seems to be inability of some media outlets and fans to understand how difficult it must have been to integrate the new players brought into the squad over the summer. Multiple acquisitions were brought in, and even when I interviewed Roberto Mancini back in September, (before the Fiorentina game), he claimed that his team still had a long way to go. He indicated that this project was embryonic, and that despite recording five wins from five, still had an awful amount of work to do.

The way in which the Milanese have brought players in over the transfer windows is also something that's they should be proud of and will and could do them a lot of good moving forward. It has been calculated, efficient and innovative so much so that it was dubbed 'The Inter Formula' by the Corriere Dello Sport.

Sporting Director Piero Ausilo and ex General Director Marco Fassone are the men who have been credited with its invention and the Corriere claimed the idea would still be remembered "100 years from now." The way in which this works (in basics terms) is that Inter take a player on loan and then pay in instalments over a one year of two-year period. The main reason that they have done this is to 'outmanoeuvre' Financial Fair Play as spreading these payments (or making intelligent payments) allows them to purchase players over the value they normally would have been able to.

The second reason that this has been successful is that it also gives you an opt out clause. It is not always possible to buy players of elite quality in this manner and that is why the Nerazzurri have seen players with potential come in. Players like Xherdan Shaqiri, Lukas Podolski and Martin Montoya may have floundered, but Inter decided to take a risk anyway. Though they didn't work out, the payment plan allowed a quick exit. [If only Massimo Moratti had heard of this one back in the 90s! ed].

Take the case of Shaqiri, signed by Fassone and Ausilio from Bayern, it was reported that the initial move was a loan that would become compulsory (and cost €15 million) should the player make a certain number of appearances. This did not happen, and the Swiss winger departed for pastures new at the end of the season.
Whilst this policy has seen some failings, over all it has allowed Inter to revamp the squad and
players like Jeison Murillo, Joao Miranda, Adem Ljajic and Ivan Perisic have been a success.
The squad rota has been hugely improved since Mazzarri has hold of the reigns and this team would perhaps not look out of place should they reach the Champions League.
For that to happen they will need to recapture some of that defensive solidity that served them so well in the first half of the season. Samir Handanovic has been the player of the season so far but the partnership of Miranda and Murillo certainly has been a step up from the dysfunctional relationship Juan Jesus and Andrea Ranocchia put together last term. Mancini has also seen Alex Telles flourish this season and once he can find a replacement for Yuto Nagatomo (although arguably Danilo D'Ambrosio is already the right man for the job) then things may start to get back what they had been.
The Nerazzurri coach still has much to solve when it comes to his team. What is the best position for Adem Ljajic, out wide or a Trequartista? How does he get
Geoffrey Kondogbia
to consistently fulfil his potential and not sit too deep, which often leads him to coast through games? How does he get his more creative players to
give the ball to Mauro Icardi without him having to come deep?
Where should he play Stevan Jovetic, with Icardi or as a Trequartista and why does it take his team so long to get into a game and struggle to dictate the pace? These are all problems he has been and still is encountering and they are the reasons that this team is not challenging for the Scudetto.
If the above is the reason they are being classed as failures or that this is evidence that the club is in crisis, then perhaps this is unfair.
There are few football teams if any that could not pick five or six areas where they could improve
but the question should be asked how do we measure a team. Whilst any business plan can be adapted and modified as the year goes on the principles should still be the same unless something catastrophic happens. Inter are one point off Fiorentina, one point off the Champions League spot and, surprise surprise, they face the Viola next.
Erick Thohir has always stated that the Champions League is the goal this year and it is in fact the Nerazzurri's overachievement that is now seeing them chastised.
If fans who frequent San Siro are disillusioned, maybe
they should think back and remember the results under Mazzarri and the way the 'project' looked then.
Remember the horrendous games against St Etienne that sent many to sleep? [dear God yes. ed]. Remember the 1-4 defeat to Cagliari and the 2-0 against a Parma in crisis?
The season should be judged, of course it should, it should however be judged with context.
Richard Hall runs the Internazionale Blog over at ESPN (find his work HERE)
and on twitter at @Gentleman_Ultra